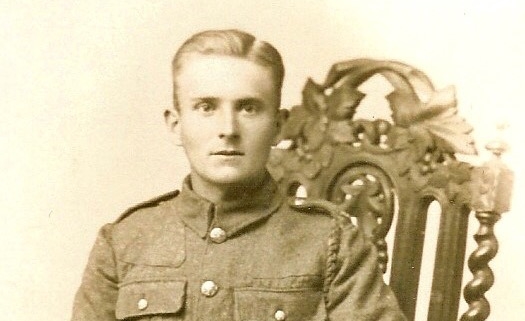 Surname: Sims
Other names: William
Locations in this story: Cann, Shaftesbury, DorsetShaftesbury, DorsetFrance & FlandersSt. James' Church, ShaftesburyGermanyGold Hill, Shaftesbury
Story: William (Billy) Sims was born on 20th December 1892 in Cann, Shaftesbury, Dorset, and baptised there in St. Rumbold's Church, Cann, on 26th February 1893, the son of Edwin Sims and Emily Sims (née Gray), a local family.   William (known as Billy in the family) lived all his life, apart from the military service, in and around Cann and Shaftesbury, Dorset.   He married Emily Ellen Burden at St. James Church, Shaftesbury, on 23rd November 1914 and they went on to have a large family. 

William enlisted on 5th June 1916, joining the Dorsetshire Regiment as a Private (Service No. 24155), serving in France and Flanders. After the Armistice he transferred to the Lancashire Fusiliers (Service No. 53044), serving in Germany and becoming 'Batman' to an officer.

Billy was finally demobilized on 15th November 1919. During his time in the army he had received a gunshot wound to his left hand and was now awarded a small short-lived pension due to his injury. He was also awarded the Victory and British War medals. The 1921 Census shows that he was living at 20 Gold Hill, Shaftesbury, working as a Grocer's Assistant for J. S. Cheater & Co, (Bakers) of 38 Salisbury Street, Shaftesbury. By the time of the 1939 Register his address was given as 17 Gold Hill, Shaftesbury, Dorset, now working as a radio mechanic and salesman as well as volunteering as an ARP Warden.   He died in Shaftesbury on 15th November 1979 and was buried at St. James Church on 20 Nov 1979.

Billy's brother Frank also served in the war, with the Wiltshire Regiment and the Royal Army Service Corps.

Source: Photograph of William Sims provided by Dave Hardiman.