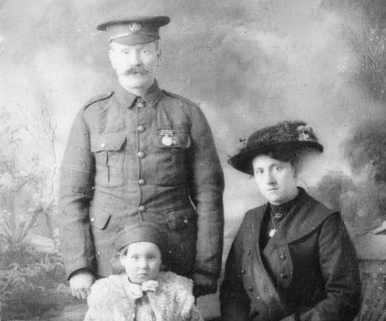 Surname: Maskell
Other names: George Henry
Locations in this story: Shaftesbury, DorsetCamden Town, LondonSouth AfrricaFrance & FlandersEgyptIndiaSt. Pancras, LondonEnmore Green, Shaftesbury, DorsetHoly Trinity Church, Shaftesbury
Story: George Henry Maskell was born in Shaftesbury, Dorset, on 10th January 1871 and baptised at Holy Trinity Church on 22nd March 1871, the son of Charles Maskell and Eliza Maskell (neé Hoskins). He enlisted as a Private with the Dorsetshire Regiment (Service No. 2614) on 31st January 1888 and served in Egypt, India and South Africa where he was awarded the Queen's South African Medal and two clasps.

He was discharged on 29th January 1901 having completed 13 years service and went to work for the railways in Camden Town, London, where he met and married Rose Woodford on 12 May 1904 at St, Thomas Church, Camden Town. They went on to have six children.

He was living at 46 Warden Road, St. Pancras, London, when he was called back to the Colours and embodied on 2nd September 1914 and joined his old Regiment (Service No. 7859) as a Private.  He was transferred on 1st April 1915 to the Duke of Cornwall's Light Infantry (Service No. 20041) and served with the 1st Battalion in France.  On the 15th October 1917 he was declared medically unfit for further field duty and was transferred to the Labour Corps (Service No. 413896) serving successively with the 900 and 903 Area Employment Company.

He was demobilized on 4th February 1919 and awarded the Victory and British Medals as well as the 1914-1915 Star. His address then was given as Brickhill, (Enmore Green), Shaftesbury. The 1939 Register shows him living at 2 St. Georges Road, Shaftesbury, and he is described as a Railway Hydraulic Fitter (Retired). He died at 2 St. Georges Road, Shaftesbury, on 27th July 1946.

Source: Based on previous research by Ken Baxter and on private family papers lodged in the paper files at Gold Hill Museum.