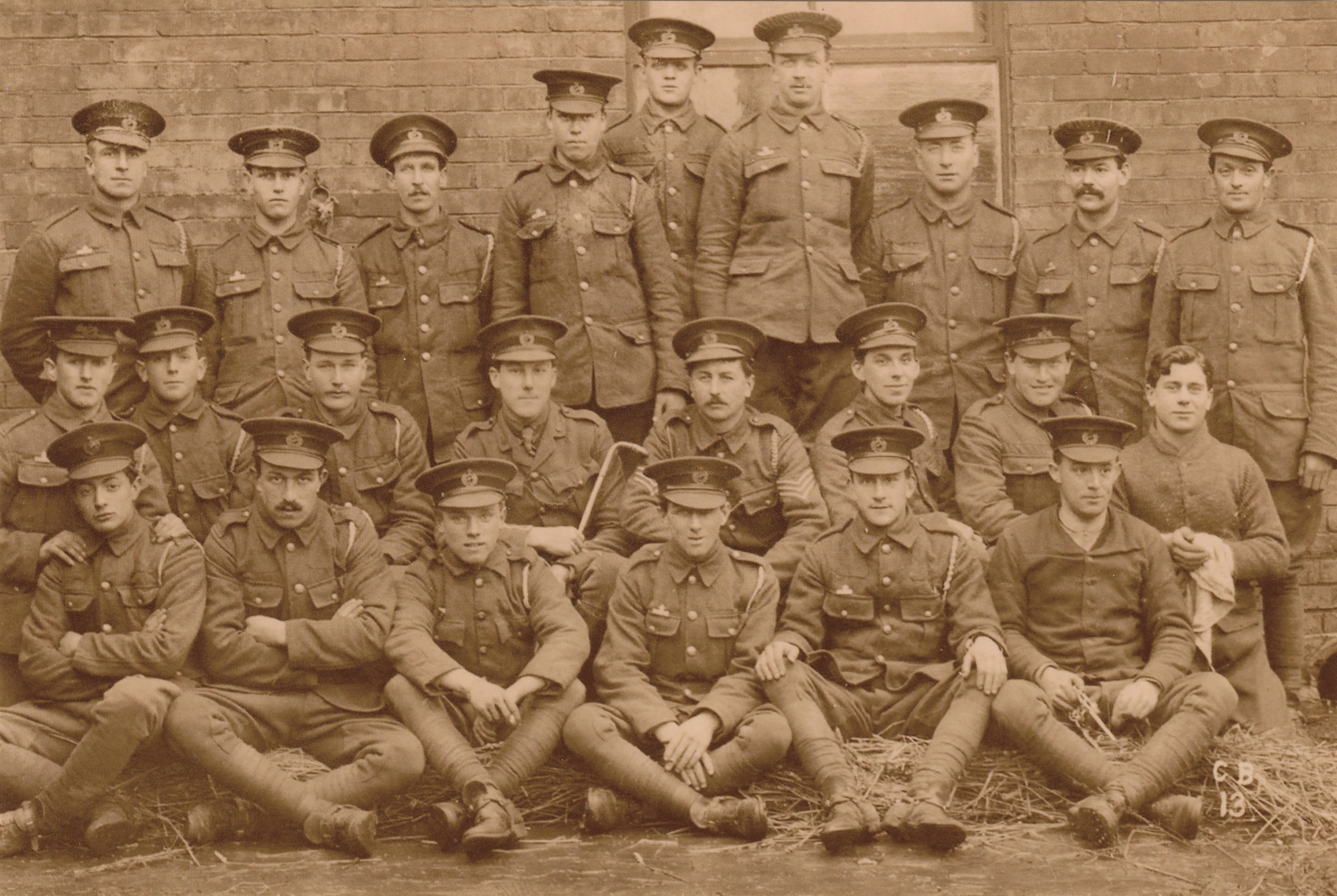 Surname: Garrett
Other names: James John
Locations in this story: Cann, Shaftesbury, DorsetShaftesbury, DorsetTwyford, Shaftesbury, DorsetMelbury Abbas, Shaftesbury, DorsetSt. James' Church, Shaftesbury
Story: James John Garrett was born on 19th December 1886 in the Parish of Cann, Shaftesbury, Dorset, the son of George William Garrett and Emily Garrett (née Jeans).  Apart from his army service James spent all of his life in and around Shaftesbury, Dorset. He attended Shaftesbury Grammar School, leaving in the summer of 1899.

James enlisted on the 20th December 1905 and joined the Dorset (Queen's Own) Yeomanry Reserves until the 22nd April 1908 when he enlisted further with the Territorial Battalion of the same regiment (Service No. 214), attending annual training camps.  He married Daisy Brine on 21st October 1913 at St. James Church, Shaftesbury, Dorset, and they went on to have five children.  James was embodied at the outbreak of war on 5th Aug 1914 (Service No. 927) and served throughout his time in the UK.  He was promoted to the rank of Corporal and then to Acting Sergeant but had to be released on a number of occasions during 1915 to assist on the farm back at home.  He eventually opted to take a release from the Army as he had already completed the terms of his engagement and was discharged on 22nd April 1916. The 1939 Register shows him living at Whitings Farm, Melbury Abbas, Shaftesbury, Dorset, and described as a Dairy Farmer.  He died in Shaftesbury on 13th May 1964.

The "First List of Old Shastonians Serving in H.M. Forces" was produced by Shaftesbury Grammar School in September 1915. It shows the regiment in which James served and the date and term in which he left school. His name is also included on a hand written list of Shaftesbury Grammar School old boys serving during the war. The board is now at Gold Hill Museum.  

Source:  Photograph of Sergeant John James Garrett in the Dorset Yeomanry supplied by Nigel Garrett.